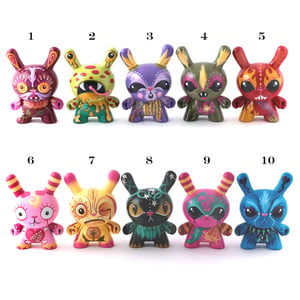 £

45.00
This 10 part Dunny series is my largest to date and there are still some of these little guys left to grab after Toycon! Each plant is named after a toxic plant and has been illustrated to show the plant itself and the nasty effects they have!
1. Datura (Moonflower) A popular poison for murder. Datura causes intense hallucinations and an ability to seperate fantasy from reality.
2. Toxicodendron Radicans (Poison Ivy) Probably the most well known on UK Soil, this nasty little plant causes a painful itchy rash and oozing blisters
3. Laburnum (Golden Chain) Symptoms of being poisioned by Laburnum include convulsions and intense sleepiness which can lead to a coma.
4. SOLD
5. SOLD
6. Actaea Pachypoda (Dolls-Eyes) Don't be fooled by the rather sweet nickname, ingestion of these eye like berries can lead to cardiac arrest and even death
7. SOLD
8. Acokanthera Oblongifolia (Wintersweet) Traditionally used by African tribes as a virulent arrow poison. The berrys are sweet and tasty but the milky sap can kill a human very quickly.
9. Brugmansia (Angels Trumpets) Effects of ingesting the seeds and leaves of this plant include muscle paralysis, hallucinations, cycloplegia and death.
10. SOLD
The back of each of the Toxic Ten is adorned with the Toxic Ten skull emblem (see photo 2)
This piece will be shipped AIRSURE (insured and tracked) overseas. UK shipping will be via 1st class recorded
**PLEASE NOTE** These are toys I painted up for Toycon and will only be at these special low prices for the next 7 days (From the 7th April to the 14th April) so snap them up while you can!